James O'Barr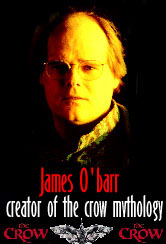 James O'Barr conceptualized The Crow in the early '80s as a response to a personal tragedy. A self-taught artist, O'Barr first began the series while in the Marines stationed in Germany, where he was on loan to the Army illustrating hand-to-hand combat manuals. Inspired by such diverse sources as the works of French poets George Bataille and Anton Artaud, the music of punk artists Ian Curtis and Iggy Pop, and the stories of Lewis Carroll and Edgar Allan Poe, James O'Barr conceived the character of The Crow as a supernatural force driven by equal parts of love and revenge.O'Barr credits his distinctive visual style to studying classical Renaissance sculpture, film noir, and his two years of medical training. He currently lives in the Detroit area where he is working on a new graphic novel and screenplay entitled Gothik (to be made into a feature film produced by Jeff Most).
O'Barr on his comic book:
"Writing The Crow didn't help at all," he says. "I thought it would be cathartic, but as I drew each page, it made me more self-destructive, if anything. There is pure anger on each page, little murders. I was more messed up by the time I was done with the book. There was a rumor going around when there was a delay between the third and fourth issue that I had committed suicide. I was annoyed by that, because God's had his elbow on my neck for this long, I feel I can stick it out. I'm not ready to put a period on that sentence yet."